[76] Dançar... in the Cosmic Ballet
A propósito da posta sobre o fundamentalismo anti-religioso no
Blasfémias
, reproponho (acrescentando foto) uma das primeiras postas do
Cura di Sé
([16] Dançar...in the Cosmic Ballet).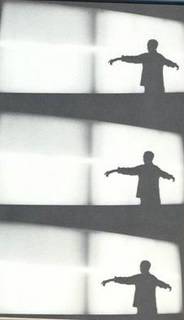 Num fundo brilhante, como o clarão de um amanhecer, retalha-se a silhueta de um homem de braços abertos. Só se vê do tronco para cima e, por isso, não se percebe se dança ou se procura um equilíbrio. Ou é bailarino ou funâmbulo. Ou procura um equilíbrio suspenso no abismo ou desempenha a sua parte na dança da vida. O que vai dar ao mesmo.

Diz John D. Caputo (2001, On religion):

What do I love when I love my God? To a Buddhist, or to a Native American, or to a contemporary eco-feminist, the cosmos is not a blind and stupid rage, as Nietszche thought, but a friend, our element and matrix, the beggining and the end, the gentle rocking of a great cosmic womb, a friendly flux from which we take our origin and to which we return, like the steady beat of ten thousand waves in the sea. Then the love of God means to learn how to dance or swim, to learn how to join in the cosmic play, to move with its rhythms and to understand what we are each of us of no special import other than to play our party in the cosmic ballet.